Click button for detailed article about each place.

CINQUE TERRE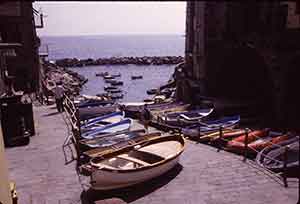 We're going by train from Santa Margherita for a day-trip along the coast of Italy on the Mediterranean shores to Cinque Terre, an amazing cluster of five little villages clinging to seaside hills in the southern-most part of the Italian Riviera. Starting at Monterosso and continuing south we arrive next at Vernazza, then Manarola and finally Riomaggiore, each about a mile apart with a total population of nearly 6,000. Little hilltop Corniglia requires climbing too many steps, so we skip that one. The towns are connected by hiking trails and by train, so we have our choice. We can do a little gentle hiking to get a feel for the terrain, walking through vineyards and olive groves with a view, but nothing too strenuous. Most of our walking will be within each village, enjoying the leisurely pace and coastal atmosphere of these isolated communities. For those wishing a longer hike there will be a chance at the end to peel off from the group and do it on your own.
Almost inaccessible and sheltered from the outside world for centuries, they flourish as time-capsules of old-fashioned life in a perfect setting: along azure shores, surrounded by lush hills covered with grape vines, olives, cactus, citrus groves and wild greenery. You can travel from one of these towns to the next on foot, by train, or by boat, but not by car -- there are no direct roads connecting Cinque Terre along the steep coastline, helping to preserve them as such unique places on this southern fringe of the Italian Riviera 40 miles below Genoa. These villages can provide us with "all the pleasures of merely circulating" as poet, Wallace Stevens would put it.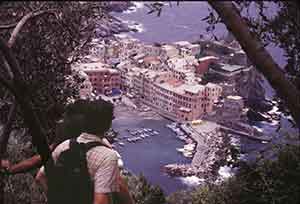 Hiking through the hills past vineyards with enchanting views all around is one of the great attractions, but even more enjoyable for most visitors is simply strolling and relaxing in each village, soaking up the peaceful, old-world ambience where cars and trucks are not allowed. You really don't have to do any hiking at all to enjoy the towns, since frequent train and boat services are available, but walking is such a part of the complete experience that you should try at least a couple of the connecting routes. More intrepid hikers interested in larger adventures can continue for days along the many trails that continue much further up the hills, detailed in maps available for purchase there.
Although isolated, Cinque Terre has been discovered by the enlightened horde and gets quite busy in season. There is a slight admission fee to what is now a national park. Visit between October and March to avoid the crowds and enjoy this special place at its best, or brace yourself to share it with the summer bunch. Off-season travel is especially rewarding in a destination like this which derives so much charm from its small size and quiet atmosphere. Only five miles from one end to the other, we will see most of it in one day.
The hiking trail connecting them passes through terraced vineyards that offer wonderful views for much of the way and is not overly strenuous for the typical traveler. Total trail length is 7 miles, with each section between the towns covered in a comfortable walk averaging 2 hours. The entire trail system could be done in one, long tiring day, but it is best enjoyed in sections over several days. The easiest path is found on the south end, connecting Riomaggiore to Manarola with a level, paved path that takes only 20 minutes. Called the "Via dell' Amore" this lovers' path is the only section where you can walk side-by-side holding hands.
MONTEROSSO
Monterosso on the north end of the chain is largest of the five hamlets and makes a good home base because it has 20 hotels, the only sandy beach, excellent restaurants, and the start of the hiking trail. It is also the only one in which long-distance trains stop, so it is easy to reach by rail service from throughout Europe. You arrive by train at Monterosso in the newer section built in the 1970s, then walk through a short tunnel into the Old Town. The train goes right by the beaches so it's really accessible and yet you can't drive here very easily. The road don't connect directly from one village to the next. So they have been protected and sheltered, and they are just as quaint and charming as could be -- for pedestrians only when you get into the heart of town.
Monterosso has a handful of historic sites, including a Cappucine convent and church, a medieval tower, castle ruins, and WWII bunker, but you are here primarily here to wander the little lanes for a few hours, admire the cluster of picturesque buildings, eat well, and use the town as a springboard for visiting the region. Of course, for the shoppers, there's always that chance to find the special souvenir or elusive outfit in little, out-of-the-way boutiques that you would never find at home or on the main shopping circuits, so there's something for everybody here in the Cinque Terre.
Their written history goes back 1,000 years, with legends extending to the Roman times and beyond into prehistory. Fishing and farming were always the basic economic activities, with tourism now providing the primary income. The main crop is grapes for the local white wines, which are really quite good and can only be purchased in the area. Locally-produced food is served in the restaurants, especially the fresh seafood, olives, fruits and pasta served with pesto, 'pesto besto' they say, flavored by basil grown upslope.
These towns are not so touristy like a standard visitor area because you can't drive easily through them. Driving from Monterosso to Vernazza would take one hour requiring a long detour up and down the mountain, but just a few minutes by train, or one hour and a half by walking. So, difficult, but this difficulty is good for tourists that they can find a more relaxing place. It is very scenic. Monterosso is a small town, a fishing town, and now, very famous."
VERNAZZA
The next destination down the coast is Vernazza, which we reach in 5 minutes by train. Vernazza may be the most beautiful of all, set perfectly in a tiny valley on the edge of the sea, with colorful homes built one on top of the next and framed by a couple of churches and towers. It's a little bigger than Corniglia and Manarola, and yet it is still very, very small – so small that you could walk from one end to the other in about 10 minutes, but you'll want to slow down and get into the local pace. There's no rush here. Locals are just hanging out. They are enjoying life as much as the visitors do. The buildings have been standing for many centuries and they're not going anywhere, so take your time, explore the little side alleys, and yes, there are going to be staircases. After all, these are hill-towns, so there are hardly any flat, level surfaces here, but it's easy enough.
In ancient days there were frequent invaders and pirates who would come in from the sea. Now it's all fun and games and very peaceful. There is so little level land that the kids use the beach as their soccer field, and sometimes they use the main pedestrian lane for an extension of the game, so watch out for flying soccer balls as you walk through the streets.
At Vernazza there is one very distinctive landmark: a stone tower that was part of the medieval wall that went around the village to protect it from invaders. Climb those many steps up to the tower for a wonderful, panoramic view. You will be snapping away no doubt, capturing nice memories to remind you years hence about what a joy this was, but no picture can equal the visceral thrill of being in such a stimulating place, so don't let that camera get in the way or divert you from fully experiencing the moment. Spend a few minutes just looking, and nothing else.
A stone jetty here forms a bit of a mini-harbor. There were no natural ports in the area, so the residents had to make do and build their own, with the resulting shelter very small. Boats pull in to the dock briefly, just long enough to tie up and let people walk on and off the bouncy gangplank. Still, Vernazza is a nautical place, like all of Cinque Terre. You are within a stone's throw of the water no matter where you stand.
There is another special viewpoint that makes the entire journey worthwhile, walking up the trail on the other side of Vernazza in an easy 10-minute climb, where you reach a
ledge looking straight down into the pastel-colored village wrapped around its tiny harbor. This picture-book setting with a spectacular view all around will be a highlight of the tour, and very easy to accomplish.
MANAROLA
Ahother 5-minute train ride brings us to Manarola where we walk through town to the beautiful, azure shores of the Mediterranean. Manarola spills down the hill to the waterfront, its houses packed solidly together in the typical pattern of the region, with terraced hillsides for the grapes up above. They don't have a beach but there is a boat ramp carved into the stone, the most popular spot around for it functions like a beach, packed with sunbathers. The ramp leads to a cove with good swimming, further protected by a stone jetty. It's comfortable here -- not a sandy beach or Olympic-size pool but it is sheltered water and makes a great spot to gather, producing a mix of locals and some tourists; passers-by and people who are just spending an hour or so in Manarola and then moving along.
There's no room to put the boats in the water so they are stored up on dry land, on a ramp and along the main street as well. The villagers have covered the stream over, so you don't see it in the middle of town, thereby creating an uninterrupted pedestrian zone. There are quite a few local residents who like to hang out, sit on the bench, chat with their friends and do some people-watching. And the numerous cats also have that same laid-back attitude. In the afternoons most of the shops close by 1:00pm for siesta and then re-open at 3:00 or 4:00pm. Some of the tourist shops selling postcards will stay open, but the other stores in the little side streets are going to be closed. So it is a good time to have lunch. You could pick up picnic supplies or sit in one of the many terrace restaurants here. It's a small place but there is a nice selection of pizzerias and take-out food or of course, the ever-present pasta.
RIOMAGGIORE
The path from Manarola to Riomaggiore is the easy one with a level, paved surface called "lovers' lane," taking just 20 minutes to walk with nice coastal views along the way.
Enchanting, charming Riomaggiore is the grand climax to our survey of Cinque Terre. Here too you see that familiar pattern -- the houses tumbling down the cliffs to the water's edge and a main pedestrian street rising up from the tiny cove, surrounded by terraced homes covering the hillside. It's a surprising mix of urban high density in the midst of a tranquil, rural setting. It is very quiet when you walk down the little side streets, especially in the off-season, like early October when we are here.
That completes our Cinque Terre visit, so its time to catch the train back to Santa Margherita and find some dinner.