COPENHAGEN
We begin our tour with three days in Copenhagen, capital of Denmark. This is the most-visited city in Scandinavia, probably due to its mix of sophisticated modern culture and a well-preserved historic past. The architecture and town plan reflect this mix -- a picturesque harbor surrounded by the old town, with many palaces, museums, gardens and shops to keep everyone happy. In this story we describe the planned activities for our three days in this wonderful town, with organized visits to many fascinating attractions along with some free time for personal discoveries.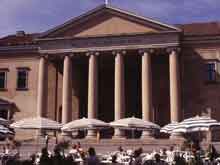 "Almost Utopia" The envelope, please....The award for best country to live in, enjoying the highest standard of living, goes to -- Denmark! Happiest people in the world? Danish! This premier social ranking by numerous studies and polls puts Denmark's capital city of Copenhagen very high on any list of places to visit. And yes, it is the most-visited city in Scandinavia, most likely due to the mix of sophisticated modern culture and a well-preserved historic past. The architecture and town plan reflect this mix -- a picturesque harbor surrounded by the old town, with many palaces, museums, gardens and shops to keep everyone happy.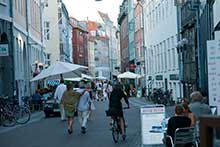 Outline of our visit:
DAY ONE: walk through center; canal boat tour; Tivoli Gardens.
DAY TWO: Botanical Gardens; National Gallery; Rosenborg Palace; Amalienborg Palace; Nyhavn.
DAY THREE: Christiansborg; Glyptotek art museum; National Museum; Free afternoon.
The greatest attraction of all is the city itself, especially along the narrow pedestrian lanes that run through the heart of the old part of town, lined with historic buildings, shops, cafes, bars and restaurants.
Our flight arrives in the morning, giving us the full day to explore, including time to relax and rest. After hotel check-in, we take a walk through the heart of town, strolling along the famous pedestrian street of Stroget. This wonderful shopping lane runs for a mile through the center of town -- Europe's longest urban pedestrian street-- with various side lanes that are also free from automobile traffic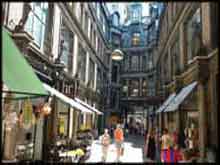 Copenhagen's automobile-free city center is like a big shopping mall, but set in quaint historic buildings rather than in a modern, sterile arcade, showcasing a diverse mix of independent stores along with major outlets. Automobiles were banned from the center in the early 1960s, making this one of the first pedestrian zones in Europe. Wandering through will be one of the most enjoyable activities of our entire tour, and there will be sufficient free time during our three days for repeat visits, especially because our hotel will be centrally-located in this zone making access quick and easy.
Copenhagen is perfect for walking, as the center of town is small enough, about a square mile, to cover on foot and the narrow streets that wind through it offer wonderful discoveries.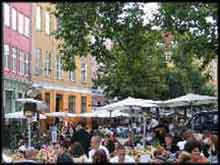 It is large enough to provide many places to explore, but small enough that you won't get lost or exhausted covering the sights. The street pattern is also perfect for walking, with narrow winding lanes that developed during many centuries before the automobile took over and "modernization" flushed out what was left of the charm in so many cities. This neighborhood will be a major focus of our visit, supplemented with a few easy excursions to nearby palaces and attractions. Like many European cities, Copenhagen has managed to preserve its special historic character. In the central square around the Dolphin Fountain you will find an especially strong lineup of major retail names along with many smaller specialty shops.
Gammel Strand is Copenhagen at its most charming, along the picturesque shore of the Holmen Canal, a few blocks from the Stroget. Here, and further along Nybrogade, you will find rows of historic buildings lined with art galleries, antique shops, sidewalk cafes and excellent restaurants, including Krogs, the oldest and most famous seafood house in town.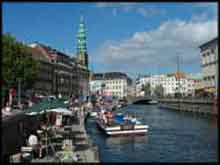 Following an afternoon rest at the hotel, we continue with a canal boat tour, which offers one of the best ways to get a quick overview of the city. It gives us an easy orientation, enhanced with narration from a guide who fills you in on a little history and provides descriptions of the passing sights. The boat tour will bring us to the Little Mermaid on the north edge of town. She is smaller than you might expect, but is still the most famous symbol of the country. The boat will soon deposit us back where we began.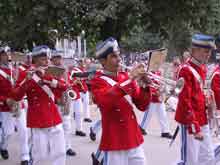 Tivoli Gardens, Copenhagen's most popular major attraction, will make the perfect place to end our first day. The best time to visit Tivoli is just before twilight, to see it in late daylight and then enjoy magical illuminations as the lights come on. One of the prettiest night scenes is the sparkling lights outlining the Chinese Pagoda, reflected in the boating pond in front. Stay for dinner and be a kid again by taking one of the wild, scary rides.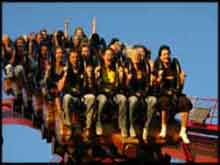 The amusement park features a mix of amusement rides, forty restaurants, live music, tree-lined gardens with 400,000 flowers, evening illumination by 115,000 colored lamps and generally festive atmosphere. The private park has been operating for 150 years, which lends a historic elegance to the mix: carnival games on one side, rides all around the perimeter, with a peaceful atmosphere in the center offering sedate pleasures of promenades, tea service and flower gardens. Tivoli is the third most popular amusement park in Europe, and just got busier now that the scary, new triple loop roller coaster ride has opened.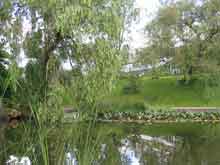 DAY TWO:
Another walk through quaint pedestrian lanes of the town center soon brings us to the Botanical Garden, with 20,000 plant species from around the world arranged in beautiful patterns that utilize remnants of the old fortified walls and moat that once circled the city. Meandering paths wander through the lush flower gardens and into different greenhouses for tropical palms, cactus, orchids and rainforest plants.
The National Gallery, Denmark's largest art museum, is in the same park, featuring a comprehensive European collection ranging from old masters up through early 20th century.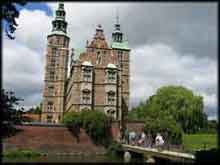 Across the street we can enter Rosenborg Slot Palace, a former royal residence, now the museum of the Danish kings. Rosenborg contains the Crown Jewels, a royal throne, original furniture in restored rooms, detailed stucco decorations and dark wood paneling throughout. Built in Renaissance style so typical of Copenhagen at that time, with red bricks and the green copper roof, it appears to be a fairy-tale castle right out of Hans Christian Andersen.
Next, we walk through the adjacent Royal Gardens, the oldest park in town with its original plan still intact, offering broad, green lanes and narrow paths to explore.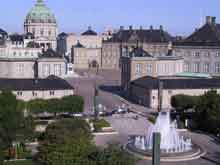 In a few blocks we reach the palace where Denmark's royal family resides now, Amalienborg Palace, arriving by noon for the colorful Changing of the Guard ceremony. Amalienborg Palace is a unique complex of four nearly identical, rococo mansions around the edge of a broad, octagonal square, with a huge equestrian statue of Fredrick V in the middle. Built for noble families in the late 1700's, the royal family took possession in 1794.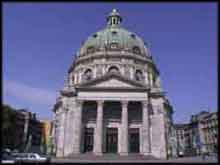 On our walk back towards the town center we can admire the Marble Church, "Marmorkirken," sometimes called Frederick's Church. The towering dome, based on St. Peter's in Rome, is astonishing in its baroque grandeur.
Now is a good time to visit the picturesque Nyhavn canal, which is right on our walking route back to the center. We are just taking a brief look now, but you might want to come back on your own some night for dinner. An amazing outdoor party happens every evening along the picturesque Nyhavn canal in the heart of town, where people gather by the thousands to drink and talk. This is the biggest ongoing party in Europe! Read more about Nyhavn at the end of this story.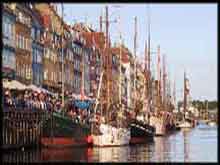 We then pass through the King's New Square, which is surrounded by some of the city's grandest buildings, including the French Ambassador's Residence and the Royal Theater, one of the few in the world where opera, ballet and drama are performed. Art exhibits and special events are occasionally held on the square. Scandinavia's largest department store, Magasin, is also on the square. King Christian V is immortalized in the center with a magnificent bronze equestrian statue.
That puts you back in the town center by mid-afternoon with the rest of the day free.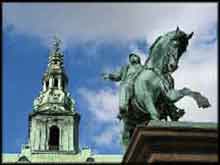 DAY THREE:
We can start with a short walk to Christiansborg, a large complex of monumental government buildings and gardens on a small island. It has always been the political center of town, starting from 1167 when Bishop Absalon founded the city by building his castle on this spot. This complex is the only building in the world to contain the three main branches of a government: Parliament, High Court and Prime Ministry. The Outer Courtyard and side wings of Christiansborg are survivors from the Baroque palace built in the French style in mid-18th century. A passage through the arcades leads to the beautiful Library Garden filled with colorful flowers and a large fountain in the middle. Amazingly, this garden used to be a harbor where the warships of Christian IV were secretly prepared for battle, hidden behind large buildings that still surround this space.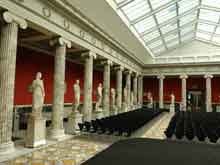 Just a few blocks away is the fine art museum, Ny Carlsberg Glyptotek, with the nation's highest quality collection of painting and sculpture spanning the years from ancient Egypt up through the extensive French Impressionist collection of masterpieces by Degas, Monet, Renoir, Van Gogh and others of this period. Paul Gauguin was married to a Danish woman and lived in Copenhagen for five years before moving to Tahiti, so there is a strong selection of his works.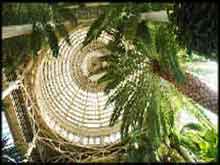 The building complex is as beautiful as the art within, starting with the Winter Garden — a large, glass-domed greenhouse just inside the front door. The café serves lunch and the best chocolate cake in town.
History museum-lovers could visit the magnificent National Museum, which occupies an entire city block and includes 14,000 years of human history.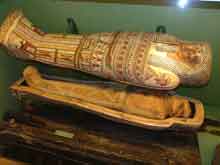 About half the space is devoted to Danish history, from the Stone Age through modern times. Another large section takes you on a journey around the world, with special emphasis on the Inuit. The exhibition also includes many artifacts from Africa, India, Indonesia, New Guinea, New Zealand, Japan, China, Central Asia and Siberia. The ancient classical worlds of Egypt, Greece and Rome are also represented, with mummies, vases, jewelry, glass and more — exhibits that document daily life, special occasions, politics, religion, life, love and death in these ancient societies. This is the nation's largest museum.
Those interested in modern design could visit the five-story Danish Design Center, just around the corner, next to the City Hall Square. Clean, functional style has been a hallmark of the Danish Modern movement, influencing industrial design, furniture and fashions throughout the world, and this is the showcase where you can see many examples of modern Danish design.
Another way to get around town and see some typical local neighborhoods is by taking a ride on the efficient public transit system.
The area is filled with so many interesting things to see you could spend the rest of the afternoon here, enjoying fine art, royal history, geology and exquisite gardens.
Another visit this evening to Tivoli Gardens might be a great way to finish your visit to Copenhagen.
That completes our visit, but read on if you wish a bit more information.
Short History Sketch:
Copenhagen is a medium-sized city of 1.2 million that gives you the benefits of a cultured metropolitan center without the problems of a vast, congested city. It is similar in size and character to Stockholm and Amsterdam, with historic old brick buildings lining a picturesque waterfront that extends for 30 miles along the edge of the town. "Hagen" means harbor, so water is integral to this alluring city's identity and history, including that Viking chapter when they ruled much of England and parts of Europe. Copenhagen has been an important commercial town ever since the time of the Hanseatic League in the Middle Ages, when it was connected into a vast northern Europe trading network.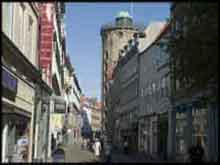 Other sights to consider in the center: Numerous streets for pedestrians branch off from the main walking lane of Stroget. You can find your own way through here this afternoon, taking all the time you need to thoroughly cover the attractive, main lanes of Kobmagergade, Fiolstraede and Kompagnistraede (the Tivoli end of Stroget). Don't even try and pronounce them, but you can easily find these little streets by looking around, or consulting the free maps that are widely available. There are many other nice little lanes for you to discover -- you will quickly get the picture.
Look for peaceful little squares like Graabrodretorv, sheltered by trees, with welcoming benches for you to sit and relax a while, surrounded by pubs and restaurants. The university district is two short blocks away, with some funky shops for students, antiques and cheap eats. Copenhagen's Our Lady Cathedral is on the south edge of this student zone, and worth visiting
Nearby, on Kobmagergade, you will find the Round Tower ("Rundetarn"), which has an outdoor observation platform with a great view across the rooftops of the old town. You walk up an internal spiral ramp seven times around to reach the top of this 17th century astronomical tower, 115 feet above the street. The slope is quite steep on the inner edge but gentle on the outer side of the ramp, and much easier coming down. It is said that nobles would ride up the spiral in their carriages in the old days. This street also has the Post and Tele Museum, a surprisingly interesting history of postal and telephone service, with a rooftop café that offers a lovely view across the historic, red-tile rooftops.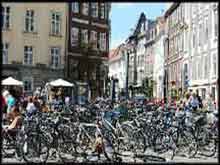 This central neighborhood is a perfect size -- one square mile. It is large enough to provide many places to explore for days, but small enough that you won't get lost or exhausted covering the sights. The street pattern is also perfect for walking, with narrow winding lanes that developed during many centuries before the automobile took over and "modernization" flushed out what was left of the charm in so many cities. Like many European cities, Copenhagen has managed to preserve its special historic character.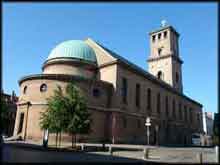 The best shops, with high-quality clothing, electronics, souvenirs, jewelry, restaurants and cafes are in the section of Stroget between Gammetorv, with its Dolphin Fountain, and on towards the Kings New Square. In the center, at the Dolphin Fountain, you will find an especially strong lineup of four major retail names in a row: George Jensens Silverware Shop, Royal Copenhagen Porcelain Shop, Holmegaard Glass and Illums Bolighus home furnishings with an excellent display of Scandinavian design. These four stores are interconnected so you can walk from one to the next without stepping outside. Together they make up a stunning display of Danish goods at their best. The latest trends in crystal and ceramics are displayed a few doors down at Rosenthal StudioHaus.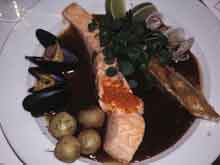 When you get hungry there is no problem finding food in this central area, ranging from sidewalks stands selling pizza up through some of the most expensive dining in Europe. The most typical, simple meal is the smorrebrod, a small open-face sandwich you can readily find in a hundred varieties. The large department store, Illiums, at the major intersection of Stroget and Kobmagergade, is pricey but has a reasonable cafeteria with excellent food, as does Magasin, the town's other main store at the end of Stroget. Many bakeries are now offering inexpensive, take-out sandwiches.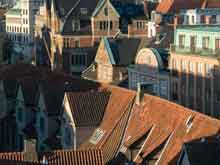 Gammel Strand is Copenhagen at its most charming, along the picturesque shore of the Holmen Canal, a few blocks from the Stroget. Here, and further along Nybrogade, you will find rows of historic buildings lined with art galleries, antique shops, sidewalk cafes and excellent restaurants, including Krogs, the oldest and most famous seafood house in town. On the weekends you might browse in the small flea market on the little square. Enjoy the splendid views across the canal toward Christiansborg and the Thorvaldsen's Museum, which has a large collection of the nation's most famous sculptor, Bertel Thorvaldsen, who worked in Rome during the first half of the 18th century.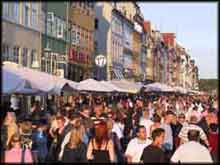 More about NYHAVN
Most shops close at 5:00 or 6:00pm, which is a good time to hit Nyhavn, just beyond the end of Stroget, across the Kings New Square. It is one of the world's most amazing gathering places, in a beautiful setting framed by sailboats tied up along the dock on one side of a waterway and a long row of bars and restaurants facing them, with colorful old houses on both sides of the canal. But ironically, the street party is fueled by beer purchased in nearby shops rather than from the more-expensive bars. Everyone stands or sits around on the ground and along the dock having a grand time, with a constant stream of six-packs coming in and empties being carried out by scavengers. Most of the partygoers are young professionals relaxing with friends after working all day, enjoying some laughs and a few beers. You are welcome to join in if you feel comfortable in this setting, because the locals speak English and are quite friendly, especially if you bring a six-pack to the circle. Things are especially lively here in the long twilight of a summer day, when it doesn't get dark until after 10:00 p.m.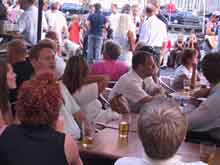 Danes are world-class beer drinkers, but this scene at Nyhavn is all very civilized, with no sign of rowdiness or loud behavior. While it may not be fair or accurate to lump all the people of a nation into a stereotype, the Danes are widely regarded to be the friendliest and most easy-going of the Scandinavians, and you can see that in action at this "longest bar in town." Perhaps the Danes are more European than Scandinavian in temperament because they are geographically connected to the mainland. The rest of Scandinavia is further north, in colder climes on a huge peninsula attached to Russia, separated from the rest of Europe by the Baltic Sea.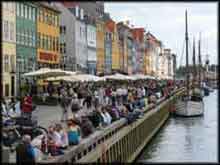 Nyhavn means "new harbor," but it was built 350 years ago and many of the colorful buildings lining the canal date back that far. For hundreds of years this was a sleazy waterfront dump where you would only meet drunken sailors and hookers, so it was a place to avoid, but forty years ago it turned completely around and became very fashionable. It makes a lovely stroll any time of the day or evening, and the restaurants are very good along this picturesque waterfront. Grab an outdoor table for a ringside seat at the best show in town to round out your wonderful evening.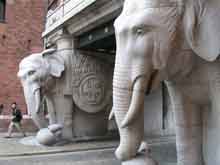 VESTERBRO and FREE BEER
For those interested in getting away from the tourist center and seeing how the natives live, you could explore a working class neighborhood in the Vesterbro district behind the train station -- which will also lead you to the Carlsberg Brewery where you can take a tasting tour. This formerly run-down area has been rejuvenated in recent decades and transformed into a multicultural district, with affordable housing, ethnic restaurants, schools and parks. This area behind the train station also has the largest cluster of affordable hotels, so you might even be staying here. The main shopping district of Vesterbro is along Vesterbrogade, which also has some of the city's best nightlife.
CHRISTIANSHAVN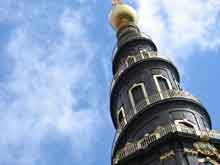 The island of Christianshavn, which you already passed by on the boat tour, is an easy 10-minute walk from the center along Torvegade, its main street, or short ride on Bus 8 from City Hall Square. Christianshavn has some quaint canals, cobblestone streets, lots of old buildings and one particular attraction: a steep spiral staircase you can climb on the outside of the tower of Our Saviour's Church for a breathtaking experience, on Dronningsgade.
QUALITY OF LIFE
By the way, the standard of living survey mentioned at the outset makes some other interesting comparisons with other countries. This Index of Social Progress, published annually by the University of Pennsylvania, ranks the world's nations based on quality of life as shown by various social, economic and political indicators. Rounding out the other top slots were the rest of Scandinavia, plus Germany, Austria, Iceland and Italy. The USA was quite far down the list at number 27, between Poland and Slovenia, primarily due to our "chronic poverty" that affects 33 million people. Denmark scores at the top because they really do take care of their people from cradle to grave.
This brings up some deeper social reasons why Copenhagen has evolved into the fine city we see today. Despite the disparity between rich and poor found in all countries, Denmark has one of the world's most even distributions of income, and social benefits available to all. For example, the upper fifth get 40% of the total income, compared to America where the top fifth get half of all income. However, the high taxes in Denmark redistribute some of this and the government provides generous social services to all, regardless of income.
Danish care starts with birth, when parents can take up to two years paid leave from work to raise their baby, with either mother or father taking time off. Pre-schools are then provided, staffed by well-paid, qualified staff, followed by public schooling right up through university level that is free and of highest quality. Unemployment has dropped from 12% to 5% in the past decade, and those without a job can collect 90% of their former salary for three years while looking for work. The elderly population is similarly provided for, with an emphasis on home care services rather than relocation to retirement homes. All meals can be delivered and attendants can drop in on those needing assistance around the clock. This is a caring society. There is no utopia, but Denmark comes as close as it gets.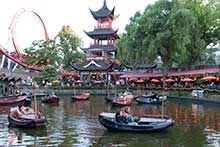 From Copenhagen we fly to Bergen, Norway.
Click for Bergen -- or -- BACK TO MAIN TOUR PAGE