OSLO
You will be delighted with our visit to Oslo, capital of Norway, which the United Nations has ranked as the best country in the world to live. The fascinating downtown is a compact area just one mile long and a half-mile wide, filled with the typical European variety of shops, parks, restaurants, museums, scenic waterfront and historic sights to keep you highly entertained for several days. Oslo's population is only 550,000, making it the smallest Scandinavian capital, and very easy to get around.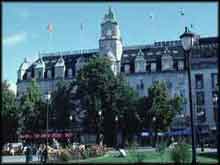 Our hotel has a prime location in the central section of the main street, Karl Johans Gate, which begins at the train station and continues for one mile to the Royal Palace. This boulevard is definitely the heart of town, buzzing with people all day long. Karl Johans has fine shops and restaurants along both sides in the neighborhood of the train station where it is a lively pedestrian mall extending for six blocks, with several enticing side streets also reserved for pedestrians.
Today's orientation walk begins across the street in a pretty park that is Oslo's major gathering place in fair weather, serving as an outdoor living room. The busy garden cafe in the middle is an excellent place to stop later for drinks and a light meal, or just sit on a bench and watch the entertainers. At one end stands the Parliament, finished in 1866 with a mix of Renaissance and Neoclassical styles that has created one of the prettiest building in town.
Oslo's three main shopping streets, Karl Johans, Rosenkrantz and Stortingsgata, surround this popular park, forming Oslo's best neighborhood. At the next block along Karl Johans we find the oldest university buildings in Oslo, opened in 1854. The three attractive university buildings are in the Neoclassical style with impressive columns and pediments, set back in a one-block campus of green lawns and tall trees. Have a look inside the central building to appreciate the beautiful entrance hall, lined with tall columns and coffered ceiling, like a Greek temple, and then proceed into the auditorium where you will find three walls covered with large murals by Edvard Munch, Norway's most famous artist, who worked on them for ten years. Many more paintings by Munch await those interested in the next few days.
From here it is an easy three-block walk towards the waterfront to see the impressive home of the city government. City Hall was a built between 1931 and 1950 in what was then the very modern style of Functionalism, with a plain brick design that looks like three large, plain boxes.
City Hall faces the harbor, which is a major focus of activities in Oslo, with a large restaurant mall, historic sights and excursion boat services. Here you will find Aker Brygge, the most exciting dining and shopping complex in town, where a shipyard that stood until the 1970s has now been transformed into a wonderful place to have a meal, do a little shopping and take a stroll along the waterfront. An indoor food court and lovely sidewalk cafes offer prime position for watching the attractive crowds on parade along the waterfront.
Returning back into the center of downtown, we pass through the pretty square in front of the Oslo Cathedral, the Domkirche (1697). The Stortorvet Square in front often hosts a colorful flower market, and across the street is Oslo's largest and best department store, Glas Magasinet, which offers many goods of Norwegian design, and is especially noted for high-quality glass works. Stables that once circled this square have been converted into attractive shops and cafes. Yet another pedestrian mall, Torggata, extends three blocks north from here into another nice shopping area that could keep you busy for the rest of the evening.
This morning we enjoy a tour that takes us to a couple of important sights on the edge of town beyond walking distance -- including Frogner Park, with an amazing outdoor sculpture collection. During the ride you will hear about Oslo's history as well as get shopping and dining tips which can greatly enhance your visit. Riding along we discover that Oslo is a green city with lots of trees, fountains, parks and gardens. There are many neighborhoods of beautiful, old houses mixed nicely together with modern apartments.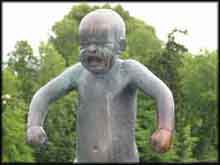 The Vigeland Sculpture Park is often cited as Oslo's top attraction, so it should not be missed: an amazing collection of 200 statues by Gustav Vigeland, arranged in one of the world's most interesting sculpture gardens. Even those who don't care much for statues, this will find this a worthwhile expedition because the subjects are people and human emotions, which have universal appeal. The pastoral setting in a large, green park also enhances the experience.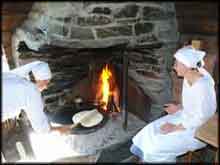 We then continue by bus to the Bygod Peninsula, where there are several outstanding museums. Imagine traveling back to the 19th century and seeing all of Norway in one small park, with original farm houses, country manors, village centers and local experts dressed in authentic costumes to tell you all about it. That is just what you will find at the amazing Norwegian Folk Museum, one of Europe's largest open air museums, with 150 original buildings moved here from all regions of Norway.
Each building cluster has a knowledgeable guide in native costume who will entertain you with a personal tour of the property, demonstrate some crafts and answer any questions you might have. You might see a blacksmith in action, taste some freshly baked goods, or watch the goats and pigs being fed. The most important treasure is the traditional Stave Church, with its tall, gabled roof dating to the Middle Ages. Interior visits of each site show you traditional furniture, kitchen utensils and domestic items which really provide an accurate feeling for the traditional culture. As you walk through the homes and farms with your guides, they often tell stories about the actual people who lived there, bringing the nation's history to life.
The grounds are landscaped in a natural way that gives the feeling of being way out in the country, with farm animals to create that rural atmosphere. Each building complex is separated from the others by trees and pastures, so you can enjoy the adventure of navigating from one area to the next as you discover the many sites. Nearly all the park's buildings are made of wood, since timber was the main natural resource of Norway. This gives an earthy appearance to the design that is greatly enhanced by the sod roofs on many of the houses. Lovers of arts and crafts will be especially delighted with the Old Town center where the artisans have their workshops, demonstrating traditional skills and selling unique products made there. This includes a silversmith, weavers, candle makers and especially, The Pottery, which has been part of the park for 50 years. Some kind of musical entertainment is usually going on to further enhance your visit to the park.
After the folk park, walk about ten minutes to the Viking Ship Museum, 600 yards away, or wait for the city bus to bring you there. This small museum is another one of the treasures of Oslo, containing two large Viking ships and many cases of artifacts accompanied by informative descriptions. We then walk back to the ferry dock at Dronningen for the ten-minute boat trip back to City Hall.
Today you will enjoy further explorations in Oslo and we have several suggestions. This would be an excellent time to visit Oslo's two major museums for art and history, easy to find in the center of town just behind the three university buildings, one block from Karl Johans Gate on Kristian IV's Gate. These fascinating museums are free and worth at least one hour each.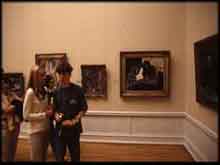 The National Gallery is the most important art museum in the country, with an excellent collection of important European paintings in a large space extending through 60 rooms on 3 floors. You'll be delighted by the nice sample of French artists, including Manet, Renoir, Cezanne, Gaughin and Matisse along with several rooms of Old Masters from Renaissance and Baroque times, including Velasquez and El Greco.
The Historical Museum, one block away, covers the evolution of culture from the Stone Age through the Middle Ages, then continues the human story with an Ethnographic Collection, exhibiting artifacts from the Arctic, Africa and the Americas. The Viking section is especially interesting: horned helmets, battleaxes, farming implements, swords, boats, gold jewelry and hundreds of other fascinating items depicting life of those infamous Norwegians, who thrived in the years 780 through 1050.
We can then walk back to the harbor and visit the imposing Akershus Castle and Fortress, which is Oslo's oldest and most historic attraction, built between 1299 and 1319. A ten-minute walk along the waterfront around the fortress grounds brings you up the fort's ramparts, which offer a lovely view looking back across the harbor.
Next we stroll through the oldest section of town between the fortress and the Parliament. This neighborhood offers pleasant shops, restaurants, a couple of modern art museums and a mix of old and new buildings, presenting an outstanding shopping and tbusiness environment that has special appeal for connoisseurs of city life.
A slight detour of a few blocks will bring us over to Oslo's spectacular new opera house on the waters edge, where we can walk on the roof of this curvaceous ultra-modern creation. From here we can easily reach downtown's largest indoor shopping mall.
Art-lovers would thoroughly enjoy a visit to the Munch Museum, which has about 1,000 of his paintings displayed in thisv modern building which opened in 1963. It is beyond walking distance, but easily reached by metro to Toyen and then a short walk to the museum, which also has a nice snack bar and gift shop.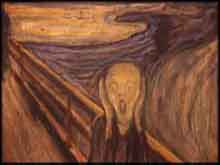 It's ironic that Edvard Munch (1863-1944) is widely known for just one painting, "The Scream," and yet the rest of his pictures show the same skillful hand at work, laced with existential anxiety and strong human feelings. These other pieces are not well know because he sold very few paintings and donated his entire collection for this museumv. You have to come to Oslo to experience the wide range of subjects and emotions he explored. Munch studied in Berlin and Paris, influenced by Gauguin, Van Gogh and other Post-Impressionists, but then took the art world to a new level of Expressionism, infused with powerful, frightening passions and brilliant colors. By now the day is nearly done and you are free to take it from there and find a nice dinner.
From Oslo we take a scenic train ride across Sweden to Stockholm.