STOCKHOLM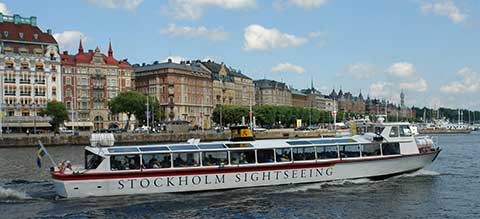 Stockholm is one of Europe's truly beautiful capitals. This amazing city was created by a society that cares about people and provides for their welfare and their pleasure, resulting in wonderful conditions for the visitor to enjoy. Scandinavians believe in quality of life and are generally considered to have the world's highest standard of living. Stockholm offers a magical blend of efficiency and beauty, romance and skill all working together to make your visit extremely rewarding. It is modern, yet has some of Europe's best-preserved historic neighborhoods, with an atmospheric mix of ancient cobbled alleys, 17th century buildings and contemporary shops. Something special is happening here.
You can easily keep busy and have fun in Stockholm for two days. The most worthwhile activities are: walk the Old Town (of course), take a boat ride around some of the city's 14 islands, visit the reconstructed historic village of Skansen, tour the world's largest occupied Royal Palace, visit the three best museums, check out the modern downtown and shop along the great pedestrian promenade of Drottninggatan. You'll love it!
We will want to spend a lot of time exploring the quirky streets of Gamla Stan, the old town, where our hotel is located. This is the site of the medieval city center and is the number one most interesting place in town. Wandering the Gamla Stan is the prime reason for coming to Stockholm, so have a good look around. They just don't build cities like this any more.
The narrow twisting cobbled streets of Gamla Stan are lined with superbly preserved old buildings which contain some very modern stores, so you can enjoy the historic experience while shopping! In fact this neighborhood has been a place for commerce since the 12th century, when it was first settled as a trading center. Most of the handsome buildings you see now were built of brick and stone in the 17th century when Sweden was one of the greatest powers in Europe.
Nearby is the Drottningholm Palace, which is the largest occupied royal palace in the world. Arrive in the courtyard well before noon for a good position to see the spectacular Changing of the Guards. The highly decorated palace interior is typical of what you find throughout Europe's extravagant royal mansions.
The main event in Gamla Stan is to walk along the fascinating shopping lane, the Vasterlanggatan, but you will also enjoy a wander into the little side alleys, exploring past centuries frozen in stone. It is much quieter here away from the shopping throngs and there is an abundance of small pleasures to be found in the details of buildings, gardens and older shop fronts. There is so much rich atmosphere to absorb in Gamla Stan we will lead you back for another few hours on the final day.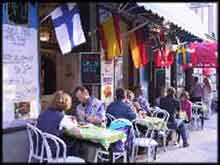 When hunger strikes you could find no better choice in Gamla Stan than the series of ancient restaurants behind the 13th-century Storkyrkan Cathedral on Skomakargatan. If the weather is mild you can sit outdoors, or better yet, have a traditional meal in their medieval barrel-vaulted cellars which were storerooms four hundred years ago. This you must see, even if you are merely passing by looking for a restroom. Here you really step down in time as you venture below street level. Alternatively, pick from the charming outdoor restaurants that line the Stortorget main square of the Gamla Stan, overlooking the historic Bourse stock market. This is the only part of town where stores remain open late, so you will have plenty of time for browsing and shopping until dropping.
We start our second day in Stockholm with two outstanding history museums that you would really enjoy -- the Vasa and the Nordic. You will want to see the 17th century wooden warship, the Vasa, briefly the world's largest battleship until it tragically sunk on its maiden voyage in 1628. It was top-heavy with hundreds of wooden statues. You can see them all, because the massive ship was rescued from the deep twenty years ago and put on display here, with many related nautical artifacts, and friendly knowledgeable guides who lead frequent tours of the exhibit. It looks brand new. When you are finished here walk one block over to the Nordic Museum, the largest collection of Scandinavian artifacts in the world. They have tons of history on display, including folk art, handicrafts, furniture, table-settings, clothing, interiors and special exhibits.
SKANSEN
After we finish these two museums take a five minute tram ride to Skansen, the world's first, and still the best, outdoor museum. Sweden-in-a-nutshell, this vast park features about 150 houses and farmsteads that have been collected from all over the country and brought together in an exquisite living exhibit. For many of you this transplanted chunk of old-fashioned life will be the main highlight of Stockholm. Most of the houses are open only from 11:00am until 5:00pm, so we don't want to get here when the park gates open at 10:00am. Arrive at mid-day and recharge your batteries with lunch at one of the many eateries in the park or just outside the gates.
Skansen's buildings date from the 18th, 19th and 20th centuries, and show how people in different social classes lived, worked and were housed. There are costumed local guides dressed in historic outfits ready to explain the story of each display and tell you about life as it used to be lived in the house you are visiting. You will also find animals in the farmyard, and a naturalistic zoo with bears, bison, elk, wolves and reindeer. Later you can enjoy a charming folk dance performance with live music and skilled traditional dancers.
You will want to see some of the modern downtown and visit the fine art museum, eat in a stylish café, walk the main shopping street back to the Gamla Stan in the afternoon and stay there through the evening.
The center of downtown has some interesting streets and squares around it, so have a brief look as you walk past heading for the nicest shopping blocks of Hamngatan where you began your tour at the information office. If you want to peek inside NK go ahead, but it's just another big department store. For more posh shops walk another two blocks to Birger Jarlsgatan and take a left up to Ostermalmstorg if you would like to grab some take-out, or just look at the Sluhallen food market. Then we walk to the very pretty park called Kungstragarden which is the outdoor living room of the city. Here you will find locals relaxing, kids playing, fountains gushing, statues standing and flowers blooming.
Passing through the gardens we pop out the other end by the waterfront near the National Museum, which holds the country's main collection of fine arts, including a sprinkling of Old Masters and Impressionists. It is a good museum, definitely worthwhile for the art lover. After the museum, enjoy some refreshments in the opulent Grand Hotel, or perhaps enjoy their fabulous smorgasbord buffet featuring a dozen kinds of fresh herring. Another nearby restaurant is the very famous Operakallaren in the Opera House. It's now an art deco masterpiece, first opened in the 18th century and noted for a smorgasbord lunch and heavy crowds, so it's better to arrive at a non-peak time. Upstairs you will find the equally beautiful Opera Café, also busy at lunch and dinner.
The busy pedestrian shopping street of Drottninggatan is a major attraction, and runs all the way through town, filled mostly with locals out for a stroll - a perfect spot for people-watching. Here you will find several side streets that are also worth exploring in this shopping center of town. Make your way south along this lane heading back towards the Gamla Stan. You will pass over a canal and through two triumphal arches at the back of the Parliament, where you can take a brief detour if you want another glimpse back into the past. The Museum of Medieval Times, underneath the Parliament, recreates the atmosphere of old Stockholm including a section of the city wall and many artifacts from the Viking days.
As you walk back along the shopping route you will discover this same narrow pedestrian alley continues as the main commercial spine of the Old Town that you were on your first day. It totals nearly a mile of shopping nirvana. It is great to be back in this enchanted neighborhood, the best part of Stockholm. Street musicians will entertain as you stroll along. Things to buy include the famous Swedish crystal and related glassware, wooden toys, silverware, handicrafts and anything that shows Swedish design. Non-shoppers can wander into little side alleys to explore four centuries of ancient buildings. The more you stroll around Stockholm, the more you'll appreciate how much variety of architecture there is to enjoy.
If you can find any spare hours between our suggestions, hop another boat for the Under the Bridges two-hour tour if you enjoyed the water first time around. It's especially nice towards sunset. Venturing further afield, there are many palaces and homes devoted to Sweden's monarchs scattered throughout suburbia, connected with a multitude of parks, walking paths and bicycle trails. You can walk everywhere in this civilized place, or utilize the efficient public transit bus and subway system to really cover some extra ground. The Swedes are friendly and most of them speak English, so it is worth your effort to say hello.
From Stockholm we fly to St. Petersburg, Russia.