AMSTERDAM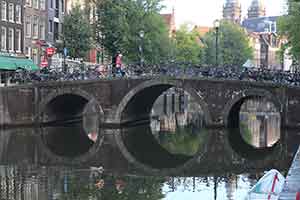 For those who love to stroll through historic cities, Amsterdam offers one of the world's best experiences. It will make a grand climax for our adventure. We shall fully explore it in our three days here, with time for a day-trip to a nearby town such as Delft or Haarlem. Amsterdam has more historic buildings and sites than any other city in the world, 6,936 at last count, nearly all of which are private houses constructed during the 17th and 18th centuries.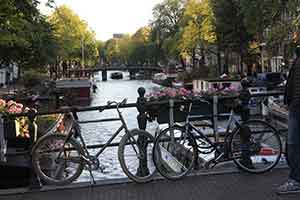 Five words can sum up the unique allure of Amsterdam: canals, cobblestones, coziness, bicycles and beer! Amsterdam is often compared to Venice because of the rings of canals that wind through the city, and the large size of the historic district. Everything is compact, with many lanes given over to pedestrians, so you can happily cover the sights on foot; there are convenient trams running throughout town to give you a quick boost when you need it. Amsterdam ranks right up there with the best that Europe has to offer. There is so much to see that you can easily fill three days with non-stop discoveries.
Day One: the oldest part of town, and explore the canals.
Day Two: boat ride, the Jordaan, shopping streets, and Van Gogh.
Day Three: the Rijksmuseum, more canals, and shopping.
DAY ONE:
First impressions really do count for a lot on any visit, so we start our day the best possible way with a walk along the canals. Almost any canal will do -- just take a stroll. Then we find our way to the starting point of the tour, at the center of town, Dam Square.
DAM SQUARE
Several of the main landmarks of the city are around you at this busy hub, with a vast cobblestone plaza in the middle and the biggest street in town, Rokin, rumbling by. Dam Square is where the first dam was built across the Amstel River in 1270, which gave the city its name. Its central location makes this a convenient place to begin, but the Dam is probably not a place you want to spend much time -- it can be hectic with the traffic whizzing by and is often just a big empty square. However, there are worthwhile sites surrounding it and sometimes you will see terrific street performers here.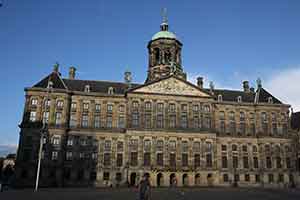 The Royal Palace (Koninklijk Paleis) dominates the Dam, with its restrained baroque façade exuding civic power. Originally built as Europe's largest Town Hall in mid-17th century when the Netherlands was a major world power, it became a royal residence in the early 19th century when Napoleon's brother moved in. The palace is open to the public if you wish to experience its architectural highlight, the vast Citizen's Hall, one of the largest rooms of its time, but there is not much else to see inside. Monarchs have never played a large role in running this country, for it was always the merchants who held the power. There is still a royal family, headed by the much-loved Queen Beatrix, but they have no power and don't live in the Palace. Open daily 12:30 – 5:00pm.
Next door is the other main attraction of this square, the New Church, or Nieuwe Kerk, which dates back to 1408 but has been reconstructed several times after major fires. Like the rest of Amsterdam, it was originally made of wood, but after burning down a few times it was rebuilt in the beautiful brick and stone that we see today. The church is open from 11:00-5:00pm daily at no charge, and is worth having a quick look at the baroque wooden altar, stained glass, and various burial monuments.
Just behind the Palace is the wonderful Magna Plaza shopping mall, built inside the old Post Office and worth visiting just to see the brilliant way they re-utilized a classic old building, incorporating remarkable atrium design that provides a look through the whole mall with a glance. You'd probably love to check out Amsterdam's main shopping street right away, so take a quick walk down Kalverstraat for a couple of blocks and then come back to the Dam. You will certainly come back a few more times to this pedestrian mall, the busiest lane in town.
In the middle of Dam Square is the Nationaal Monument, a rather plain obelisk 72 feet high, dedicated to the victims of the Second World War and to peace. Just beyond it is one of the great five-star hotels, the Krasnapolsky, with over 300 deluxe rooms, making this an excellent place to stay for those in the money, and the hotel's Winter Garden is an elegant palm-filled restaurant open all day.
THE OLD SIDE
Walk to the right side of the Krasnapolsky Hotel down Damstraat into the oldest part of town, featuring an odd mix of picturesque canals, sleazy porn, and the university. Leaving the busy traffic of the Dam behind, you plunge into the Old Side, entering a very scenic section with the most narrow, picturesque canals, lined with quiet cobblestone lanes and crooked old brick houses built centuries ago, sheltered by grand old trees that form a peaceful green canopy arching across the canals, and several blocks of prostitutes safely behind glass displays. It is an odd twist of fate that brought together these two disparate worlds, but that's Amsterdam!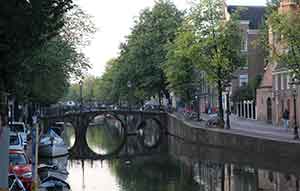 You will be faced with a temptation to turn left at the first canal, the Oudezijds Voorburgwal, into the notorious Red Light District, sex for sale. However it is quite safe and one of the most popular sights for the visitor, so go for it. This is actually the oldest part of town and certainly deserves a look. You will find this is a very charming and historic neighborhood! We have timed the visit for morning when things are pretty quiet here, so you will not be hassled. It is relatively mild in the daytime and you might even see some elderly tour groups and young families marching through.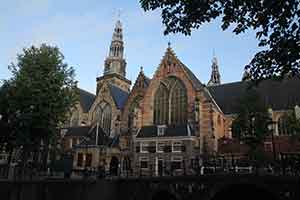 Here you can also visit the Old Church ("Oude Kerk") on Oudekerksplein, a huge 14th century Gothic structure that is surrounded by shops and cafes -- a refreshing island of tranquility in this frenetic district. Another notable structure a block further along Oudezijds Voorburgwal canal is the Amstelkring Museum, a restored 17th-century canal house that was a secret Catholic church during the oppressive 18th century. Walk three blocks as far as Zeedijk, another odd mix of sleaze and history that you might want to explore, and then return along the next canal, Oudezijdsachterburgwal to your starting point of Oude Hoogstraat, a short pedestrian street that forms the southern border of the porno district.
UNIVERSITY
The small neighborhood below Oude Hoogstraat bounded by three canals extends south for just a few blocks but contains some of the nicest sights in town, so wander up and down the quiet lanes and soak in the picturesque atmosphere. Many of these old buildings are now part of the University of Amsterdam, but previously they were private homes and shelters for the poor and retain an earthy charm. The views along the canals as seen from the bridges are most charming.
If you are a fan of flea markets, detour a couple of blocks east to Waterlooplein where you will find one of the biggest street markets in town, holding over 300 stalls. Open daily except Sunday, it caters primarily to locals, so this is quite the spot for some amusing people-watching, and if you are looking for some quality junk, you have come to the right place. There are a few other markets scattered around town, at Albert Cuypmarkt, Spui, Jordaan, and elsewhere, but this is the granddaddy of them all, in a nice square that has recently been renovated.
REMBRANDTPLEIN and TWO MANSIONS
One block south of the Amstel River you will find the Rembrandtplein, a small green park surrounded by a dozen cafes. At night this is an entertainment hot-spot, with live music in several clubs and hundreds of people milling about looking for a good time. At midday it is more relaxed and offers numerous choices for lunch.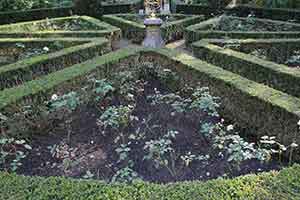 Two elegant mansions nearby have been converted into museums that provide a glimpse into 19th century domestic life of the mercantile upper class. The larger choice is the Museum Willet-Holthuysen, at 605 Herengracht, open daily from 10-5 with an admission of 4 euro. Built in 1685 and occupied until 1895, the ten rooms on two floors are filled with original furnishings and art works, laid out as if the owners just stepped out for a moment. Upon exiting, turn right on Herengraacht and walk a block to the cross canal, Reguliersgracht, then cross the bridge and stand in the middle to count the number of bridges you can see in each direction. Would you believe 15?
Two blocks away you will find the Museum van Loon at 672 Keizersgracht, even more delightful than the previous mansion because of its formal rose garden, but only open Friday through Monday, from 11-5, admission 4.5 euro. It too has period rooms filled with original furniture, porcelains, paintings and sculpture.
This neighborhood is very elegant, with the four major ring canals running through it in concentric semi-circles: Singel, Herengracht, Keizersgracht and Prinsengracht. Each of these canals is nearly 3 miles long, totaling 24 miles if you were to try and walk along both sides of each of them, so you don't want to go to that extreme. Instead, you can be selective and enjoy the nicest sections of each of them, stopping to admire the best views and snap the best photos. With each day's walking itineraries you will see different sections of these wonderful canals, but now it is time for the most important museum in town, the Rijksmuseum.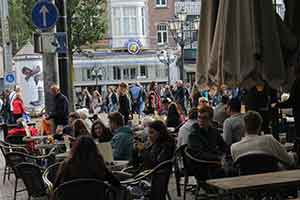 LEIDSEPLEIN
After this busy first day you will be ready to relax at a sidewalk café and take some refreshments. There could be no better choice than Leidseplein, just four blocks away, one of Europe's busiest party squares. This is the number one gathering place in town, lively at all hours, but especially in the evening. You could have dinner outdoors on the square, but there are better places in town to eat, so just focus on the drinking. Many restaurants can be found by walking towards the center of town along Leidsestraat, one of the best streets in the city for strolling and shopping. A tram runs through it, so you could just follow the tracks if you want to get back to Dam Square. While walking back along Leidestraat to the town center be sure to have a look at some canals at night, because they are beautifully lit up.
If you would like to take in some live music there are many clubs around town that can oblige, or you could take in a show at one of the major concert halls. The Bimhuis is the best place for jazz, presenting 150 concerts every year featuring some of the world's great stars; or if your tastes lean more to the classical, the Concertgebouw, with perfect acoustics and a performance nearly every night and afternoon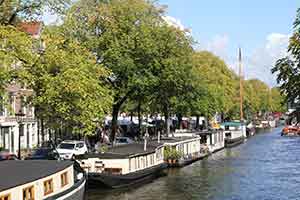 DAY TWO
There are some beautiful sections of the canal ring to walk along as you make your way one mile to Damrak for a boat ride. Meander through this neighborhood of four canals by strolling along the Leliegracht cross-canal that will bring you across the Keizersgracht to Herengracht, where you turn left. These canal intersections are always fun to look at because you have bridges and water views in all directions. It does help to have a good map while you are walking. Continue a few blocks to Korsjespoortsteeg and turn right down this small lane, then continue along it for 8 short blocks, during which it changes name four times, until you reach the busy Damrak, where the tour boats are based.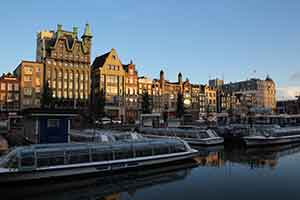 CANAL BOAT RIDE
By ten o'clock the boats should be starting up, so take a walk along the docks on Damrak and inquire with whatever company looks alive. There are several lines to choose from and they all offer the same informative one-hour ride through the canals, which is a definite must-do while in Amsterdam. This morning is the perfect moment for it, because yesterday's walk has provided a feeling for the place, which helps you relate to the sights that will glide by -- yet you still have another day and a half to explore more, so the ride can offer suggestions for more sights to visit in your remaining walking tours. You could have started with a boat ride yesterday, but first impressions of a place are best realized up close and personal, walking through the scene, stumbling a little and sniffing your way around, rather than sitting and looking through glass, whether it's on a bus tour or a boat.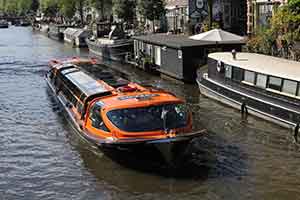 The boat route will bring you in a complete circle around the historic center, shifting from one canal to another as the captain decides, following a generally set course that shows you a section of each of the four major canals and the broad harbor area behind the train station. Clear windows curve up to the roof so you can see the rooflines going by, and you can usually slide the glass back for an unobstructed view.
There are also some specialty boat tours at night that serve wine by candlelight or a complete dinner. Evening excursions are quite beautiful because the canals are lit by thousands of tiny white bulbs that outline nearly every bridge in a magical glow. Even if you have taken a boat ride in the day, it is worth doing it again at night for this completely different effect.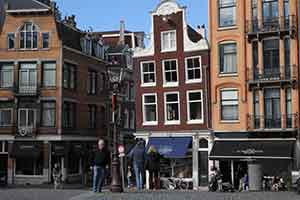 DAMRAK and SHOPPING ALLEYS
After the boat ride it will be nearly lunchtime, and fortunately the Damrak and the fascinating honeycomb of little pedestrian alleys behind it are loaded with convenient places to eat, so take your pick. Damrak is the busiest commercial street of town, connecting the train station with Dam Square. It is the most garish, noisy place in town, packed with fast food joints, souvenir shops and cheap hotels, so you don't want to spend much time here but it is worth a quick look since it is a lively place and a major piece of the downtown experience.
There is a wonderful shopping district one block in from Damrak along Nieuwendijk -- for pedestrians only, lined with stores all the way, with nine little side alleys offering more shops. Of course it has plenty of monotonous chain stores that you find everywhere, but there are many unique little places with one-of-a-kind items to be found only here, so take some serious time for shopping. Tomorrow you can shop along the other end of this street beyond the Dam, where it is renamed Kalverstraat.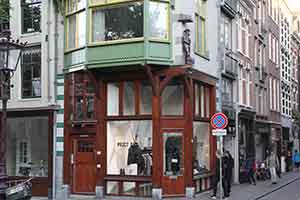 When you are finished browsing, walk a hundred yards west to the Singel canal. We will be sure to walk through 'The Nine Streets' a quaint warren of cobbled streets that connect the main canals between Leidsegracht and Raadhuisstraat. Here you'll find over 200 retailers, including a fine selection of independent boutiques, vintage shops and specialty stores selling everything from designer dresses to handmade cosmetics.
Towards the north end of the Singel turn west at the Brouwersgracht canal, where the former breweries have been converted into deluxe houses. Beer has always been important to this society, for in the old days water was often either polluted or frozen. No wonder their golden brew is so delicious. We'll steer you guzzlers to the Heineken Brewery on the other end of town tomorrow afternoon. As you walk along you will pass the three other major circle canals, Herren, Keizers and Prinsen, enjoying great views down each of these ribbons of calm water.
JORDAAN
Turning left on the far side of Prinsengracht, you have now arrived at the Jordaan, a mostly residential and working-class neighborhood that has become extremely popular in recent decades. The housing has remained relatively affordable and there is a peaceful atmosphere since it is removed from the tourist and commercial center of town, yet it is just a few blocks away. The buildings date back originally to the 17th and 18th century, typically five stories high, in a medium-density environment which offers lots of urban amenities, like restaurants on the corner and little markets for daily purchases. By the 1890s a lot of reconstruction had taken place, with 85,000 people crammed into 11,000 apartments, but now the population is one-fourth that number. It's a very comfortable place to live, with a slightly bohemian atmosphere that has attracted a critical mass of hip residents. So of course, the yuppies and urban trendies are here supporting the gallery-café scene, quirky boutiques, zany shops and other cultural attractions that have made this a most desirable neighborhood. There is a lively outdoor market along the main canal at the Nordermarkt, on Saturday and Monday mornings.
The buildings of Jordaan are a little more humble than in the rest of the historic center, since it was built originally as a village for the working-class laborers who built the city. Only a few canals slice through what is a filled-in urban zone, with seven former canals converted to streets lined with parked cars. You can still enjoy nice canal views in Jordaan by sticking to the Prinsengracht as you walk south, and after seven blocks turn right on the pretty Eglantiersgracht side canal.
VAN GOGH MUSEUM
Art-lovers will definitely want to spend the afternoon in the Van Gogh Museum, the world's largest collection of this extremely popular painter. If one keeps score with dollars, as our society loves to do, then he is the greatest painter ever, since recent auctions of his works have commanded record millions. You will be swept away by the brilliance of this unique artist, so it is definitely worth an effort to get over to the museum, located two blocks behind the Rijksmuseum. When you are done with the museum take some time to stroll in the Vondelpark and say hello to the ducks.
DAY THREE
Begin the day at Amsterdam's major art museum, the Rijksmuseum. This afternoon the main canals of the west ring will keep you busy, with free time for shopping, more exploring, and perhaps the Heineken Brewery.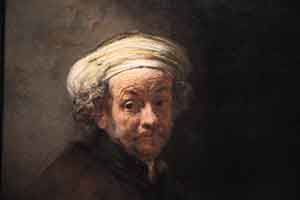 RIJKSMUSEUM
The nicest approach from the center is along the narrow street filled with antique shops called Neuwe Spiegelstraat, passing five canals in as many blocks, leading straight to the imposing front of the fantastic Rijksmuseum. If you properly paced yourself in the morning walk, you should be arriving here before 3:00pm, which gives you two hours to explore before they close. This collection is manageable in that time because it focuses primarily on Dutch paintings of the 16th and 17th centuries, rather than trying to present a complete sample of the entire world of art.
The museum has a lot to show, thanks especially to the extreme genius of three great native painters, Frans Hals, Jan Vermeer, and especially, Rembrandt, whose masterpiece, "The Night Watch" is the main trophy of the collection. There are also dozens of rooms with medieval arts and later decorative pieces of the 19th century, 17th century miniature house models, along with a sampling of minor Italian Renaissance paintings.
Head straight to the top floor and begin with those three great painters before you run out of steam. Entering the main gallery you will be immediately struck by the spacious layout and a theatrical focus on "The Night Watch" at the opposite end of the room. Many canvases by this greatest of all Dutch painters are here, but be sure to also study the four works by Vermeer, who only produced about 30 paintings in his career. There is a small Asian collection in the basement, but you need to exit the main building and re-enter from the rear to find it. The building itself is a major work of art, designed in a neo-Gothic style by P. H. J. Cuypers, who also built the similar-looking Central Train Station, both completed in the 1880s. The red terra-cotta façade is adorned with many statues, decorative stripes, reliefs and ceramic plaques, using a mix of medieval and 19th century styles.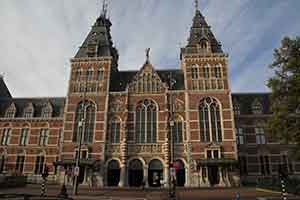 CANAL RING
You will be experiencing the very heart of the city with this walking excursion that focuses on the wealthiest part of 17th century Amsterdam. The beautiful homes you will see were built by some of the world's most powerful and wealthy businessmen, yet they were designed with an elegant restraint that fit them neatly into rows of harmonious proportions, creating a comfortable urban environment for this rapidly growing society. In the early 1600s the city needed to expand, so three more canals were dug just beyond the Singel between 1610 and 1660, with rapid construction that quickly built up this new part of town. Most homes are narrow and deep because they were taxed according to the amount of canal frontage -- so they did not show off their status in ostentatious public displays, unlike the huge country mansions found in the rest of Europe at this time. The egalitarian spirit of the Dutch expressed in these small facades lives on today in a social system that takes care of the disadvantaged. And these guys were frugal -- after all, that's where we get the phrase "Dutch treat."
At the south end of Singel canal you will find one of the prettiest sights in town, the floating flower market with thousands of fresh blooms for sale. The Netherlands is world-famous for flower production, and while tulips are the best-known, they have countless other varieties which you will see in the lively Bloemenmarkt.
Now swing around to the "Golden Bend" section of the Herrengracht, the next canal, which was home to the wealthiest of all the merchants. This two-block section between Vijzelstraat and Leidestraat has some of the widest homes with beautiful ornamentation befitting the powerful occupants. Nowadays the real estate is so expensive there are very few private residences, but the original buildings have been restored and converted into offices for professionals, banks and high-tech businesses.
SPUI and BEGIJNHOF
Continue along Koningsplein and walk over a block to Heiligeweg. Now you are in the vast pedestrian zone that leads through Spui and into the main shopping street of Amsterdam, Kalverstraat, and Spui, a small square with two very popular bars, Hoppe, an old brown café dating from 1670, and Luxembourg Café, with décor from the 1930s. Friendly people spill out onto the broad sidewalks with beer in hand, making the liveliest conversations in town. It is a perfect opportunity for you to meet some locals.
A nice surprise waits for you in the Begijnhof, a secret little village hidden in the heart of town. You can enter through an inconspicuous closed doorway from the Spui, or around the corner on Gedempte Begijnensloot through an arched entrance. Inside you will find a peaceful world of ancient houses arranged around a tiny town green with a little church in the middle. Originally built as a refuge for lay nuns in the 15th century, it is now home to elderly citizens who enjoy a tranquil life in this quiet haven. Amsterdam's oldest house is here, built in 1420, one of only two left in the city made of wood.
Next door is the Amsterdams Historisch Museum with an outstanding collection that thoroughly covers the history of the area with entertaining displays in many different media. You can get a feeling for the museum by viewing their excellent web site, complete with dozens of little flash movies that illustrate the growth of the city and take you on a walk through the different galleries. Exhibits on three floors include suits of armor, ceramics, household utensils, paintings, statues, tapestries, and everything else you could imagine that make up the story of Amsterdam, plus there is a lovely garden courtyard café in the middle of this 16th century building, which used to be an orphanage.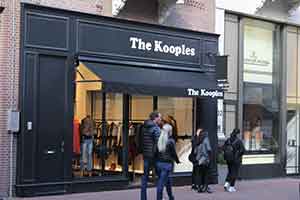 Shopping break, which is very easy because you are now in the commercial heart of town on the Kalverstraat. This is a continuation of the same pedestrian lane you were on yesterday after the boat ride. It changes name at Dam Square, but stretches nearly the entire one-mile length of the center city. Browse the afternoon away, but there are a few more things left to do.
Beer-lovers will want to find their way to the Heineken Brewery ("Brouwerij") at 78 Stadhouderskade, which is a little too far to walk, so you can take tram number 16, 24 or 25 from the center, on the Rokin, a major busy street. It used to be the main brewery until a few years ago, and now is a museum and visitors center, open from 10:00-6:00pm, but you should get there before 5:00pm, admission 5 euro, which includes a big tasting of beer at the end of the tour. The great thing about getting there around 5:00pm is that no other groups come in after you, so they don't chase you out after one round of beer to make room for the next session. You might have time for three or four rounds, soaking up the party atmosphere with lots of people getting happy.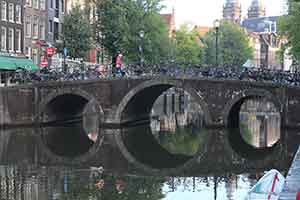 But wait, there are still two more canals to see before it gets dark! If you are not yet canalled-out, have a look at the one section of town you have not yet seen, the Prinsengracht and Keisersgracht canals, in the four-block area between Leidsegracht and Raadhuisstraat. Don't worry about consulting guidebooks because there are no crucial historical landmarks here -- just more pleasant buildings to see, and quite a few unusual houseboats, especially along Prinsengracht.
General Character of Amsterdam
A harmonious similarity among these five-story brick homes ties everything together in a balanced ensemble, yet each building is unique, with different variations of gables, statues, molding and details that constantly reward the keen observer. Handmade architecture created by master craftsmen three centuries ago is quite different than our modern glass-box design where everything looks the same. But the city has not fossilized into an empty historic relic meant just for tourists, for unlike Venice, it is thriving with a mixed economy and a half-million residents, keeping this city alive with possibilities for both locals and visitors. This is a very high-tech society with one of the world's best standards of living, so you can be sure that services will operate efficiently for you.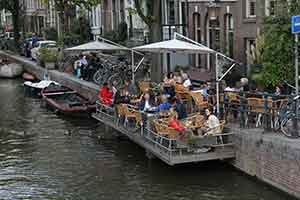 There are a lot of sights to cover in the historic center, an area within the canals of just over one square mile. There is a small-town cozy feeling here created by the quiet cobblestone streets, low-rise brick homes and always, a canal nearby. You will also find the many cafes, bars and restaurants offer a comfortable atmosphere, with their intimate interiors and friendly local customers, most of whom speak English and might not mind having a little chat with you.
Another reason things feel cozy here is that Holland is the world's second most-densely populated country, so people are used to rubbing up against each other. There is no unutilized space in the country -- there are no mountains, deserts or barren landscapes. Nearly half of the nation's dry land is man-made, pumped from beneath the seas and surrounded by dikes and dams to keep the water at bay. When a society works so hard to create land, you can be sure all of it will be used and occupied. Amsterdam itself is below sea-level and would be instantly flooded if the dams broke -- but that is not going to happen, thanks to sophisticated Dutch technology, not just that storybook kid with his thumb stuck in the dike.
Amsterdam is a quirky town. The typical citizen is a modern, well-educated yuppie earning good money in a professional position, but at the same time there are plenty of scruffy drug dealers and hookers who are free to openly conduct their business in this tolerant society. There is a legacy of wild times from the 60s and 70s when this was the main hippie center of Europe, filled with long-haired free spirits and radical political provocateurs called Provos, who took over empty buildings and staged frequent theatrical street demonstrations. For centuries there has been a strong attitude of live and let live, ever since Protestants and Jews fled here to escape persecution in the rest of Europe.
The result today is a vibrant social mix, including many Indonesians who have come "home" from the colonies, which makes for a vigorous society, a varied cuisine, and a very wide range of people-watching opportunities. Tall blondes are all over the place, but it seems like every other type on the planet also puts in an appearance, and with so many pedestrian lanes you are going to see people everywhere. This is at the opposite extreme from an L.A-type car culture where everyone is hidden behind mirrored glass. With so many different kinds of people mingling, they have learned to be tolerant.
A Little History
By the 14th century, merchant traders were already establishing fortunes by trading in beer, herring and grains with their neighbors in Germany and Scandinavia. The first two canals were dug in the center of town, and expansion continued in the 15th century with construction of three more canals, including the Singel. However, the 16th century was a tragic setback, since the country was conquered by the oppressive Spanish who waged a constant war of religious persecution and economic exploitation that only ended with the death of Phillip II in 1598. This liberation led directly to the era of great expansion in which the population increased from 70,000 to 220,000 in the first half of the 17th century, making Amsterdam the third largest European city after London and Paris.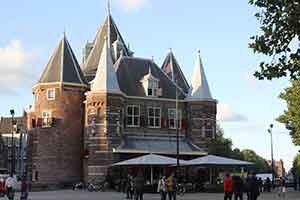 During this Golden Age of the 17th century, little Holland sent its ships out to the Far East and monopolized the trade in spices from Southeast Asia and in silk, sugar, tea and porcelain from Japan and China. The Dutch were also busy in the New World, sending ships to colonize parts of Brazil and founding the first settlement in New York. The Dutch navy even reached into the far Pacific with explorations that discovered Australia, New Zealand and Tasmania, named after the voyage captain, Abel Tasman. Dutch merchants ruled the oceans for a golden moment in time, and used their immense wealth to create these canals and houses, which stand today as manifestations of their brilliant achievements. Their immense empire reached around the world, and all the profits came back to the residents of the neighborhood you are about to explore.
Rather than loading yourself down with historical details of the individual houses, just keep in mind some general principles of the types of gables, the elaborate roof peaks that appeared to extend the house height and gave the owners a chance to show off a bit. Gables come in four basic styles: triangle, stepped, neck and bell-shaped. There are endless variations, accompanied by different framing for windows and doors, decorated with statues and molding details, with a mix of finishing materials to go with the basic brick structures. Keep looking up as you walk along to take it all in.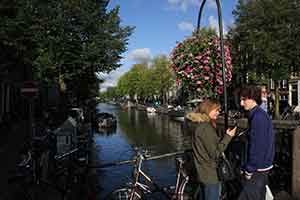 Now you have really covered everything you need to see in Northern Europe!